Welcome to MyTimeDesign!
---
Thanks for visiting MyTimeDesign, the online training arm of 2Time Labs. Our programs have been sourced from a combination of our ideas and experience, plus the best of academic research. This means that these programs are always fresh, and include the very latest knowledge available in the world in the area of time-based productivity.
We offer a variety of programs to the general public.
Time-Savvy Professionals
If you are a professional who already knows a thing or two about improving your time management skills, you may be interested in our online training programs. They offer you a fresh philosophy intended to accelerate your learning and improve your results.
We don't make outrageous promises that can't be fulfilled or measured.
Instead, we offer MyTimeDesign Plus+, a program that gives you a skillful and sophisticated way to upgrade your skills, regardless of your current competence. Our goal is to show you how to get better not just once, but over and over again without having to attend another class. If your objective is to achieve an expanded peace of mind, freedom from stress and clutter, or to take your performance to the next level, then you are in the right place.
Time Advisers / Coaches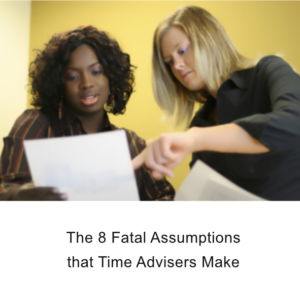 If you are a coach, consultant, trainer, professional organizer, instructional designer or teacher in the area of time management, we are world-leaders in helping you do your best work. Start by downloading our Special Report – The 8 Fatal Assumptions that Time Advisers Make.
For more information on learning opportunities, check out our Programs page, or read and enjoy some of the best of our thinking at our Blog. Our goal is to de-mystify the challenge of delivering world-class time management interventions in all forms.
Perfect Time-Based Productivity
Whatever your background might be, you may also be interested in finding more about my books, Perfect Time-Based Productivity and Bill's Im-Perfect Time Management Adventure. For more information about these books that reflect modern day time management thinking, and a depth of research, click here.
You can also explore the background to our thinking at the 2Time Labs website. Here you can dig deeper into the data and ideas we have used to become leaders in Time Management 2.0. We feature the best library of time management research in the world, and look to bring together all current researchers in these fields with an interest in this topic.
Catalog
To discover the resources we have available for executives, time advisers, lifehackers, researchers, project managers and others, visit the Your Resources tab on my book's website.
I hope you find unique and lasting value from our site and connect with us on social networks, through comments or by direct email.
Regards,
Francis Wade